We congratulate the new year with this recipe. A rice can be cooked with "anything" as long as we make a combination of proteins and vegetables, nutritionally balanced, and tastefully rich, always with a good rice, conductor of all flavors and aromas. It is also very important to know the preparation process, usually the same: make a good stir-fry, prepare a rich broth, and use the right variety of rice.
We woke up on the second day of Christmas, which this year fell on a Sunday, and fuck! What do we eat today …? if the supermarket is closed!. We opened the fridge, and we found the Christmas Eve leftovers: grilled shrimp and prawns, steamed mussels and cockles, and a vegetable broth that had been made to cook a cream. Well, recipe visualized…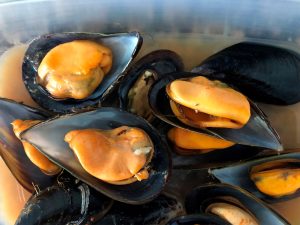 Peel the prawns and prawns, and sauté the shells in olive oil for a few minutes. We crushed them a little bit and when they were well browned, we added the vegetable broth, letting it boil for about 10 minutes. In a separate "parisien" type pan, brown some minced garlic over low heat, then add the sweet paprika, and then the grated tomato so that the sauce does not burn. We continue to pour the broth, previously strained, and let it start to boil. Add the Albufera variety rice, the saffron infusion and cook for 16-17 min, stirring little by little to release soluble starch and thicken the broth. 5 minutes from the end, add the prawns, the prawns, and the mussels and cockles without the shells. During cooking, it was corrected with salt. We let the rice rest for 5 minutes. And delicious! My in-laws hallucinated … 😉
Ingredients.
"Pariesien" type frying pan.
120 ml of extra virgin olive oil.
4 prawns and 8 prawns.
A small plate of mussels.
A small plate of cockles.
2 minced garlic.
1 grated small ripe tomato.
1 teaspoon of sweet paprika essence.
1.8 l of broth.
320 g of Albufera variety rice.
40 strands of infused saffron.
Salt to taste.