To make the broth.
We chop the whitebait and the blue crabs into 3 cm cubes, fry them and remove them. We sauté the onion and garlic. We continue sautéing the sweet paprika and tomato. We put the water on, and we reincorporated the whitebait and the blue crabs. Let it simmer for about 20 min.
Ingredients:
3.5 l wáter to making 3 l of broth.
1,25 kg of whitebait, chopped.
2 blue crabs, chopped.
2 diced onions.
2 garlic cloves, minced.
1 tablespoon of sweet paprika.
1 grated tomato.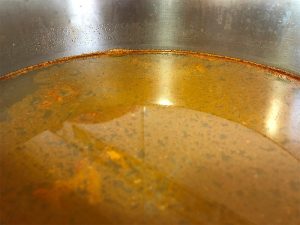 To cook the rice.
We cut the crabs in half, clean them and reserve them. We put the olive oil in the parisien, and sauté the tender garlic. When they're half cooked, we add the sweet paprika and the grated tomato and then he crabs. We add some salt. We add the broth, and let it come to a boil. After 4-5 min of cooking, add the infused saffron, add some more salt if necessary and the half chilli. We add the Tartana Albufera rice. The rice must be cooked over high heat for about 10 min, stirring slowly so that it releases starch and binds the broth. After 5 more minutes of cooking over moderate heat, stop the heat and let it rest for 5 minutes. Enjoy!!
Ingredients:
1 Parisien type frying pan.
180 ml of olive oil extra virgin.
3 blue crabs.
10 tender garlic.
2 tablespoons of sweet paprika.
2 grated tomatoes.
3 l of broth.
540 g of Tartana Albufera rice "from Tancat".
Infusion of 60 saffron strands.
Half chilli.
Salt.